PARISONS LIBERTY ATTA
Parisons Liberty Atta is made from the best varieties of wheat to preserve its natural goodness and purity. Regular intake of wheat helps control obesity and improves the body's metabolism. It is rich in nutrients, vitamins and minerals. The soft texture of the product makes it ideal for making the softest and fluffiest chappatis and paratas.
• Suitable for wheat paratas.
• Excellent water absorption capacity
• Easy to handle for dough making & sheeting.
Available in 10kg, 30kg, 50kg
PARISONS LIBERTY BREAD MAIDA
Parisons Liberty Bread Maida is a specially crafted flour designed specifically for bread manufacturing. It is formulated by blending selected wheat varieties to achieve a high protein content and create an elastic dough, ensuring optimal texture and structure in the resulting bread. This flour allows bakers to produce more loaves per batch, increasing efficiency and productivity. With its unique formulation tailored for bread-making purposes, Parisons Liberty Bread Maida empowers bakers to create delicious, consistent, and high-quality bread products.
Gives optimal texture & strength for bread
More Loafs per batch
Available in 30kg, 50kg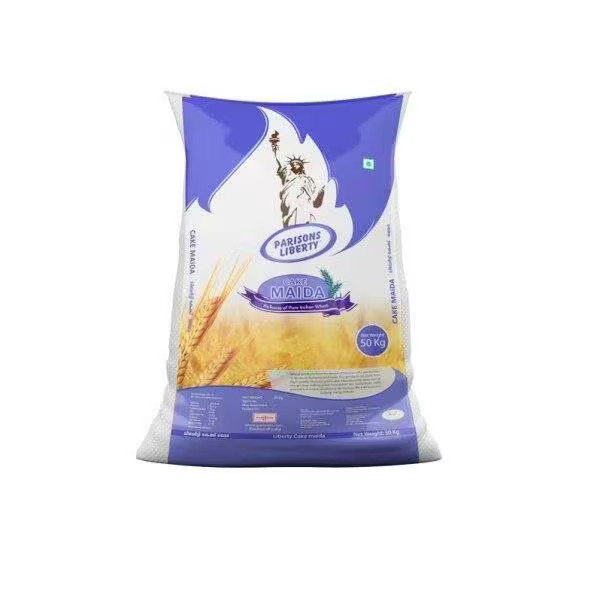 PARISONS LIBERTY CAKE MAIDA
Parisons Liberty Cake Maida is a specially curated flour specifically designed for baking cake. The wheat used in this flour is carefully selected to ensure optimum softness in the cake texture. It is formulated to provide a high volume to the cake, resulting in a light and fluffy texture. Additionally, Parisons Liberty Cake Maida offers excellent shelf life, allowing cakes to stay fresh and moist for an extended period. Parisons Liberty Cake Maida is the ideal choice for bakers seeking to create delectable cakes with exceptional softness, volume, and longevity.
• Specially selected wheat to obtain softness for cake
• Provides high volume and shelf life for cake.
Available in 50kg
PARISONS LIBERTY MAIDA
Parisons Liberty Maida is a high-quality wheat flour that is manufactured from selected varieties of wheat. The wheat flour is a general-purpose wheat flour that can be used to bake a wide variety of breads. From Cakes, breads, biscuits and puffs to Indian breads of chapathi and porotta to the traditional sweet Halwa, Liberty maida is consistent and reliable. This makes the flour the most trusted and used flour in Kerala.
Multi purpose flour
Suitable for biscuits, fried items, short crust pastry,
noodles, pasta, porotta and bread. 
Available in 30kg, 50kg
PARISONS LIBERTY POROTTA MAIDA
Parisons Liberty Porotta Maida is meticulously crafted to cater specifically to the making of kerala porottas, a popular Indian bread. The wheat used in this maida is individually blended to achieve optimal sheeting parameters, ensuring ease of rolling and stretching the dough into thin, flaky layers. With its excellent fineness, this maida provides superior water absorption, allowing the dough to attain the perfect consistency. Parisons Liberty Porotta Maida guarantees the desired taste, softness, color, and texture, enabling chefs and home cooks to create delicious and authentic porottas with ease.
Excellent dough sheeting parameters
Fine flour granulation
Dough has optimal water absorption properties
Provides excellent taste, softness, colour and texture for porotta
Available in 30kg, 50kg
PARISONS LIBERTY SOOJI
Parisons Liberty Sooji is a premium variety of purified fine wheat middlings that serves as an essential ingredient in various culinary preparations. This sooji is sourced from fine wheat grains, which are meticulously powdered and processed under hygienic conditions, ensuring the preservation of the farm-fresh wheat's nutritive value. What sets Parisons Liberty Sooji apart is its uniform and large crystal size, making it an ideal choice for South Indian dishes like upma and steam cake. Whether you're looking to create a flavorful and satisfying upma or a fluffy and delectable steam cake, Parisons Liberty Sooji provides the perfect texture and taste to enhance your culinary endeavors.
• Uniform and large crystal size
• Perfect for south Indian upma and steam cake.
Available in 30kg, 50kg